Partner
(310) 954-1877 x. 202
[email protected]


Awards
Super Lawyers Rising Stars
2018, 2019, 2020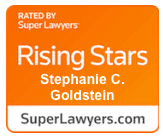 About Stephanie Goldstein
Ms. Goldstein is a seasoned litigator with Schorr Law's team of real estate lawyers in Los Angeles, who also acts as general counsel for a homeowner's association. She prides herself on obtaining the best results possible and has established a track record of success at Schorr Law. She is a Los Angeles native who obtained her Bachelor of Arts degree in Psychology from the University of Southern California. Ms. Goldstein received her Juris Doctorate from Loyola Law School, Los Angeles, where she was a member of the International Law Review. During law school, Ms. Goldstein interned at the Office of the Attorney General for the State of California in the business, tax and licensing division and was a summer associate at a fast-paced general litigation firm where she gained practical experience in the areas of real estate and business litigation.
Ms. Goldstein initially gained her experience by working at a small law firm focusing on real estate and business litigation and judgment enforcement, before joining Schorr Law in 2012 to continue her focus in real estate litigation. Since passing the bar in 2011, Ms. Goldstein has completed over 8 trials, several arbitrations, and an administrative hearing. Prior to obtaining her legal education, Ms. Goldstein worked in the legal field as a legal assistant at a civil litigation firm.
Client Successes
Ms. Goldstein's successes on behalf of her clients include:
Trial win in favor of client based on irrevocable license theory holding Schorr Law's client had a right to use 8 off-site parking spaces in downtown Los Angeles;
Obtaining a complete dismissal of disciplinary complaint filed by the Office of Real Estate Appraisers against an appraiser and appraisal management company after a 5-day administrative hearing;
9th Circuit Court of Appeals victory confirming District Court dismissal of plaintiff's claim;
Successfully defeated a motion to expunge a lis pendens in a boundary dispute and obtained an award of sanctions against the moving party
Successfully defeated a motion for summary judgment in a convoluted loan dispute
Successfully defeated a motion for summary judgment in action regarding neighbor's encroachments on clients property;
Successfully and efficiently negotiated settlement with sellers on behalf of clients buyers based on non-disclosure of roof issues for residential property in Montecito Heights;
Successfully recovered against contractor's bond after contractor failed to complete work pursuant to construction contract;
Successfully negotiated full payment of client's lien against real property in connection with a third-party fraud case involving a straw buyer;
Trial win in favor of client suing for breach of contract;
Negotiating settlement with homeowner's association regarding alleged breach of the CC&Rs
Settling a pre-litigation non-disclosure dispute involving construction defects;
Settling an ownership dispute regarding residential real property in Glendale;
Settling a complicated and contentious gas station lease dispute;
Settling a multi-national real estate fraud case involving 8 properties over two counties – resulting in a $1 million recovery for her client;
Obtaining a complete dismissal of a fraud suit against her clients and obtaining an award of attorneys' fees following the dismissal and helping successfully defeat two lengthy motions for summary judgment;
Helping obtain dispositive rulings in bankruptcy court against a debtor;
Evicting several large tenants from commercial real property;
Drafting easements and settling large easement disputes in Los Angeles, Silverlake, Malibu, Palos Verdes, Pacific Palisades, Brentwood, and in the Hollywood Hills
In 2016 alone, Ms. Goldstein has helped obtain over $1 million in settlements for her clients.
PUBLISHED APPELLATE DECISIONS:
Shoen v. Zacarias (Cal. Ct. App., Apr. 4, 2019, No. B284374) 2019 WL 1486865
PUBLICATIONS
SPEAKING ENGAGEMENTS:
Strafford Webinars: Presented webinar on Collecting Arbitration Awards as part of an expert panel; October 2019.
ProLaw CLE: Eminent Domain Law And Participating In The Condemnation Process; November 2018.
HalfMoon Education Inc: Part of a panel of presenters at a seminar on California Easements, Rights-of-Way, and Eminent Domain; August 2018.
HalfMoon Education Inc: Part of a panel of presenters at a seminar. Presented seminar on the Condemnation Process; February 2019.
AWARDS/RECOGNITIONS
Southern California Super Lawyers Rising Stars: 2020, 2019, 2018
Other Attorneys At Schorr Law