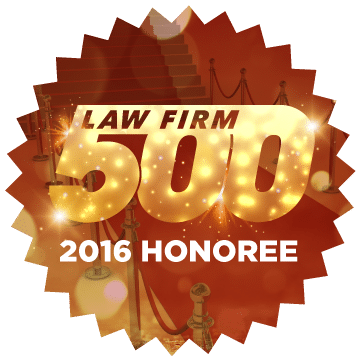 Schorr Law Ranked No. 27 on 2016 Law Firm 500 List
Updated on September 27, 2023
Los Angeles, California, October 13, 2016 – This past Monday, October 10th, the Law Firm 500 Award Team published and announced its 1st Annual Law Firm 500 Award Honorees List of America's Fastest Growing Law Firms. We are very pleased to announce that Schorr Law was named as one of the recipients for the 2016 Law Firm 500 Honorees Award.
The list recognizes law firms all over The U.S. that have achieved significant growth, have a strategic vision, and also have an unwavering commitment to succeed.
Schorr Law was first informed of its nomination and was later given the news that it would be recognized for the firm's "growth, operational excellence, and commitment to client service". Schorr Law made the Top 30 at No. 27 out of a nationally ranked list. We were one of 13 law firms in California to be recognized with this award.
According to LawFirm500.com, the nominees were evaluated on a set of Key Performance Indicators, and were subject to a rigorous and identical review process.
It is an honor to be recognized as one of the recipients for this award. Schorr Law continues to strive for success, and to give our clients the end results that they desire.
Schorr Law would like to thank not only its loyal clients, but also its hard working and dedicated attorneys, for allowing us to excel and continue to grow as a top rated real estate law firm in America. Congrats to all of the other honorees on the list!