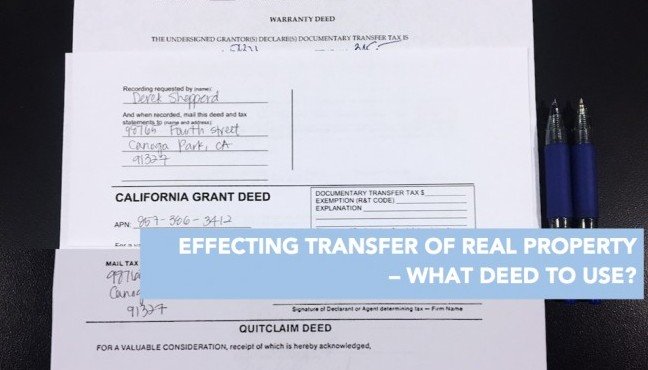 Effecting Transfer of Real Property – What Deed to Use?
Updated on August 3, 2022
The purpose of the deed is to used when transferring property or title. Below are four types of deeds that can be used to transfer title, each of them serving for different purposes:
What is a Deed?
A deed is a written instrument
that conveys or transfers the title to real property. There are several types of deed a transferor can use to transfer title. Each type of deed has a distinct meaning and purpose relating to what the transferor is warranting when they are transferring the property.
What is a Grant Deed?
The "grant deed" is the document most commonly used to transfer title to real property in California. When a grantor executes a grant deed, he or she impliedly promises:
That before the grantor executed the deed, he or she has not conveyed the same estate in the subject property to any other person than the grantee; and
Such estate in subject property is free from any encumbrance created by the grantor.
What is a Warranty Deed used for?
The "warranty deed" is like a grant deed, except that it contains additional promises. Specifically, a warranty deed expressly warrants the title to the property and the quiet possession of the property the grantee. Therefore, by executing a warranty deed, a grantor is agreeing to defend the property against any unlawful claim. Because of the prevalence of title insurance, warranty deeds are infrequently used in California.
What is a Quitclaim Deed?
The third type of deed is a "quitclaim deed" A quitclaim deed transfers to the grantee whatever right, title, and interest the grantor had in the property at the time he or she executed the deed. Unlike a grant deed or a warranty deed, a quitclaim deed does not contain any implied covenants or promises.
At Schorr Law, Our real estate lawyers in Los Angeles, has experience with a variety of real estate matters, including property ownership transfers and deeds. To inquire about a free 30-minute consultation, send us a message.
See Related Post: Difference between Grant Deed & Quitclaim Deed