What Is Nuisance in Real Estate – Can It Be Taken To Court?
Updated on September 26, 2023
What happens when you are dealing with a noisy neighbor or something else that is interfering with the quality of life on your property? It could be considered a nuisance.  In this blog, we discuss what a nuisance is, and what it takes to bring a claim for nuisance to court.  
What is a nuisance?
The term 'nuisance' is broadly defined under California Civil Code section 3479 ("Section 3479) as "[a]nything which is injurious to health, including, but not limited to, the illegal sale of controlled substances, or is indecent or offensive to the senses, or an obstruction to the free use of property, so as to interfere with the comfortable enjoyment of life or property, or unlawfully obstructs the free passage or use, in the customary manner, of any navigable lake, or river, bay, stream, canal, or basin, or any public park, square, street, or highway, is a nuisance." California courts have held that Section 3479 includes excessive or inappropriate noise. (see, Mendez v. Rancho Valencia Resort Partners, LLC (2016) 3 Cal.App.5th 248, 264.)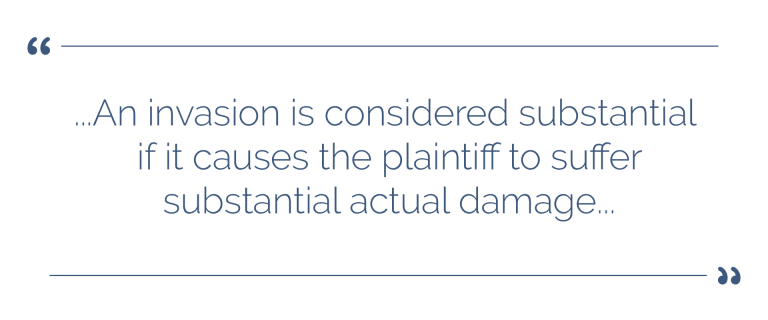 How does one prove that a private nuisance exists?
There are three elements that a plaintiff must be able to provide in order to succeed on a claim for private nuisance.
First, plaintiff must be able to prove an interference with their use and enjoyment of their property.
Second, the invasion of the plaintiff's interest in the use and enjoyment of the property must be substantial. An invasion is considered substantial if it causes the plaintiff to suffer substantial actual damage.
Third, the interference, in addition to being substantial, must also be unreasonable. An invasion is considered unreasonable if it is "of such a nature, duration or amount as to constitute unreasonable interference with the use and enjoyment of the land." (San Diego Gas & Electric Co. v. Superior Court (1996) 13 Cal.4th 893, 938.)
Is my noisy neighbor a nuisance?
A determination as to whether a particular neighbor's actions will rise to the level of a nuisance will depend on the facts of each individual case.
For example, in Chase v. Wizmann, property owners filed suit against their neighbors claiming that the neighbors' air conditioning and pool equipment was too loud. The equipment and air conditioning at issue was positioned underneath the plaintiff's bedroom window.
Plaintiff, who suffered from cardiovascular disease, emphysema, diabetes, and other health conditions, alleged his neighbor's pool equipment and air conditioning were unbearable, alleging that it felt like sitting under a jet engine, and that the equipment would run for prolonged periods of time. In this case, plaintiff was successful in obtaining a preliminary injunction ordering plaintiffs to move the pool and air conditioning equipment.
Thus, the facts of every case are different and must be evaluated and documented carefully.  The California real estate attorneys at Schorr Law are well versed in nuisance law and have the expertise to provide an evaluation of your specific facts. To inquire about scheduling a consultation with one of our attorneys regarding your noisy neighbor, please give us a call at (310) 954-1877. You can also text us at (310) 706-2265, or send us a message here.
Also Read – Specific Performance Against Third Parties