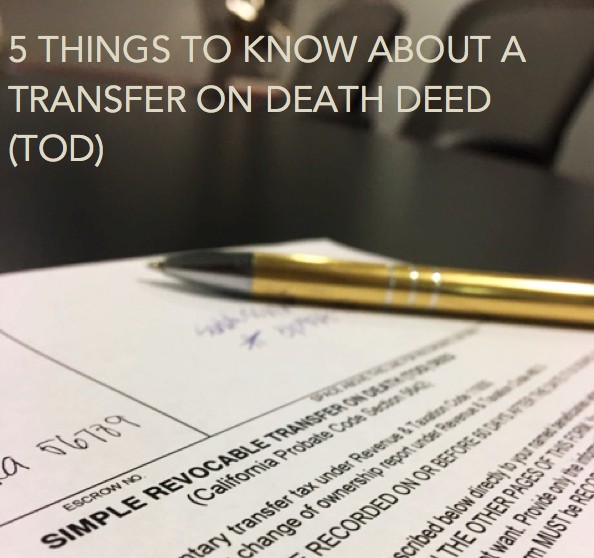 5 Things to Know about a Transfer on Death Deed (TOD)
Updated on August 3, 2022
Transfer on Death Deed (TOD)
On January 1, 2016 Assembly Bill 139 went into effect in California allowing a non-probate method for conveying real property upon death, now known as a Revocable Transfer on Death Deed ("TOD Deed").  This deed is really just a future conveyance that provides that a certain person will get the property upon their transferor's death.
How it works?  The grantor determines that they would like their property to go to someone upon their death.  They record the TOD and then when they die the person who they named in the deed gets the property.  But, before they die, they can change their mind and decide that they do not want the property to go to that person upon their death – very much like a will or a trust.
Here are 5 key items to know about a TOD Deed:
TOD Deed must be recorded within 60 days of the date it was signed and notarized, and before the transferor's date of death.
A TOD deed cannot be revoked by will.
A TOD Deed does not transfer the share of a co-owner.
A TOD Deed cannot be used to transfer a multi-family residence that has more than four units, any commercial or industrial real property, or agricultural property greater than 40 acres.
If there is more than one beneficiary, the beneficiaries inherit as tenants in common in equal shares. If one beneficiary predeceases the transferor, the remaining beneficiaries inherit in equal shares.
Our Los Angeles Probate Attorneys at Schorr Law have a great deal of experience in dealing with various types of deeds and probate litigation matters as well. To schedule a consultation with our nationally ranked real estate attorneys in Los Angeles, give us a call at (310) 954-1877, or email us at [email protected]. You can also fill out the contact form on this page.