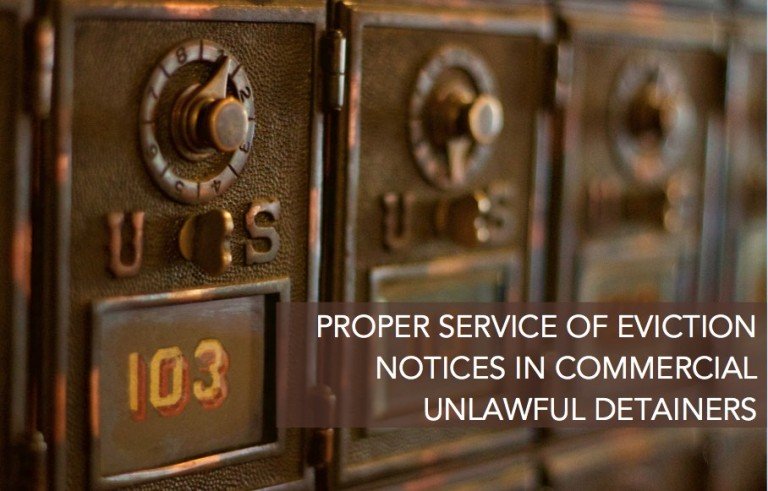 Commercial Unlawful Detainer Eviction Notice California
Updated on March 30, 2022
Unlawful detainer cases are fast track court proceedings.  They are primarily used by landlords to evict non-paying tenants or tenants who have materially breached the terms of the lease.  However, before filing a lawsuit for unlawful detainer, landlords must properly serve the tenant with a written notice that explains why the tenant is being evicted. (Bevill v. Zoura (1994) 27 Cal.App.4th 694, 697).
The unlawful detainer statutes have strict requirements governing the time and methods of service of eviction notices.   However, in a commercial lease setting, the landlord and commercial tenant may lawfully agree to notice provisions that are different that those provided in the statutory provisions governing unlawful detainer. (Culver Center Partners East #1, L.P. v. Baja Fresh Westlake Village, Inc. (2010) 185 Cal.App.4th 744, 750).
Notices in Commercial Leases Must Comply With the Terms of the Lease
In fact, the notice provisions in the commercial lease govern and supersede the unlawful detainer statutes regarding method and timing of for service of notices. (Hignell v. Gebala (1949) 90 Cal.App.2d 61, 67).
For example, if your commercial lease specifies any notices relating to the lease must be served by certified mail with return receipt at a specified address, in order to be valid, eviction notices must be served in that manner.
Failure to properly serve an eviction notice is fatal to an unlawful detainer action.  Therefore, whether you are a commercial landlord evicting a problem tenant or a commercial tenant being evicted by your landlord, it is always important to carefully review your lease to make sure the eviction notice was properly served in the manner specified in your lease.
For help with your commercial unlawful detainer case , contact our eviction attorney Los Angeles by calling at (310) 954-1877, or send us a message by using our Contact Form. You can also send us a text at (310) 706-2265.