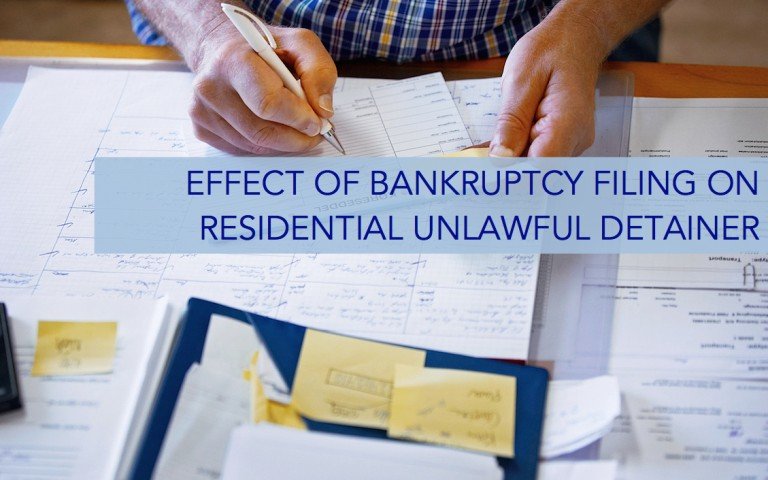 Effect of Bankruptcy Filing on Residential Unlawful Detainer
Updated on February 26, 2022
The general rule that the filing of a bankruptcy petition results in an automatic stay in a lawsuit and post-judgment collection is not as straightforward in the context of residential unlawful detainer actions in California.   The rule for unlawful detainers in California is a residential tenant's bankruptcy filing does not stay eviction under an unlawful detainer judgment obtained  before the filing of the bankruptcy  11 USC section 362(b)(22).
In other words, if the landlord has already obtained a judgment against the tenant in an unlawful detainer action, the tenant's post-judgment filing of a bankruptcy petition will not result in an automatic stay.  In that situation the landlord will still be able to obtain a writ of possession and recapture possession of the property.
The issue regarding the effect of a bankruptcy stay pre-unlawful detainer judgment is much more complicated.  In general, however (and subject to certain exceptions), the automatic stay would effect the landlord's prejudgment attempts to evict the tenant.
The landlord cannot commence an unlawful detainer against the tenant or take further steps to litigate a pending unlawful detainer while the automatic stay remains in place.  That said, the landlord can always petition the bankruptcy court for relief from the automatic stay.
We strongly recommend you consult with a real estate attorney California if you have or are considering bringing an unlawful detainer against a tenant who has or may soon file for bankruptcy protection.
Contact us to see if you qualify for a consultation.  You can reach us at (310) 954-1877, or [email protected]. You can also use the contact form on the side of this page.
Also Read –