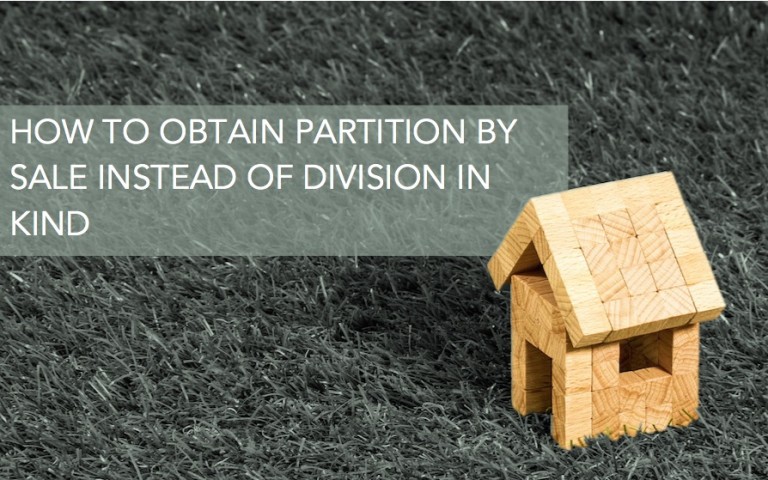 How to Obtain Partition by Sale Instead of Division in Kind
Updated on January 27, 2022
For the past 10 years the attorneys at Schorr Law have been successfully litigating partition actions.   Through this experience our Los Angeles based partition attorneys have developed insight into how to successfully navigate partition claims. For example, our partition attorneys understand that co-owners pursuing partition generally wish to seek a sale of the subject property rather than a physical division of property amongst co-owners.  Naturally, co-owners who are having disagreements with other co-owners may wish to simply sell the property and extricate themselves from often complicated and uncomfortable business relationships.
However, in order to compel a sale rather than a physical division, it must be shown that either:
(1) a division into subparcels of equal value cannot be made or
(2) a division of the land would substantially diminish the value of each party's interest, such that the portion received by each cotenant would be of substantially less value than the cash received.  (See East Shore Co. v. Richmond Belt Ry. (1916) 172 Cal. 174, 180; Butte Creek Island Ranch v. Crim (1982) 136 Cal. App. 3d 360, 366.)
In other words, unless the Court is satisfied that one of those two elements is met, the Court is unlikely to grant a judgment in which the Court ultimately orders the property sold.
In order to achieve our clients' goals, Schorr Law typically sets forth allegations in its complaint setting forth the reason why partition by sale as opposed to division in kind is appropriate.  By planning ahead, we have been able to obtain positive results in every partition matter we have pursued.
To inquire about a free consultation on your ownership or your partition dispute, contact Schorr Law today. You can fill out our Contact Box and send us a detailed message, email us at [email protected], or call (310) 954-1877. You can also now send us a text to (310) 706-2265.
See related: