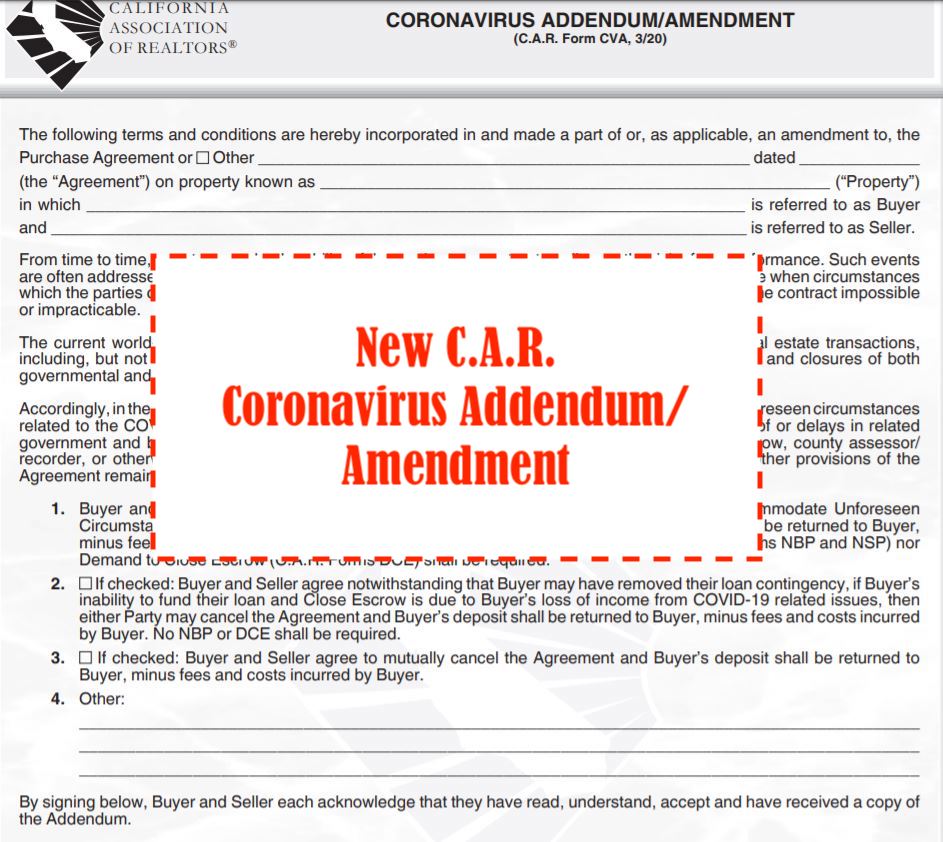 New C.A.R. Coronavirus Addendum Form
Updated on March 25, 2020
In this blog we will be touching base on the new California Association of Realtor's Coronavirus Addendum Form.
What Happens If You Want to Buy or Sell Real Property During Coronavirus?
Although mortgage rates may be volatile with the rise of the Coronavirus, there are still plenty of buyers and sellers in California testing the waters and waiting for the right time to jump in. The good news is that astute buyers and sellers (and astute realtors) can prevent an agreed real estate deal from tanking with the Coronavirus..
The California Association of Realtors (C.A.R.), is known for its standard purchase and sales forms for California real estate transactions (generally referred to as the C.A.R. Form). California residential owners may already be familiar with the residential C.A.R. form (RPA-CA).
Luckily for real estate investors, buyers, and sellers, the California Association of Realtors has timely introduced a one-page C.A.R. Coronavirus Addendum/Amendment (C.A.R. Form CVA, 3/20) that can easily be made part of any residential or commercial purchase and sales contract.
The Coronavirus Addendum / Amendment allows the parties to agree ahead of time what to do when performance is delayed or prevented by circumstances related to coronavirus, "such as Buyer's or Seller's inability to travel to sign documents, closings of or delays and related government and business services" and the like. The Coronavirus Addendum form provides four options:
1. Buyer and seller agree to postpone escrow by a default 30 days (or more) to accommodate the circumstances. This provision allows the parties to cancel the agreement and refund the buyer's deposit minus fees and costs incurred by buyer after the agreed period.
2. Buyer and seller agree that if the buyer is unable to fund their loan and close escrow due to COVID-19 related issues, then either party may cancel the agreement and the buyer's deposit will be refunded minus fees and costs incurred by buyer.
3. Buyer and seller agree to mutually cancel the agreement and buyer's deposit refunded to buyer minus fees and costs incurred by buyer.
4. The buyer and seller may write in their own terms.
With safety net provisions that specifically provide for unforeseeable circumstances related to coronavirus, buyers and sellers can pursue their real estate deals in earnest (as long as the mortgage rates are still favorable).
The attorneys at Schorr Law are experienced in reviewing real estate transactions and resolving real estate disputes. Please contact us today with questions about your real property transaction or dispute. You can message us by using our contact form, or give us a call at (310) 954-1877.