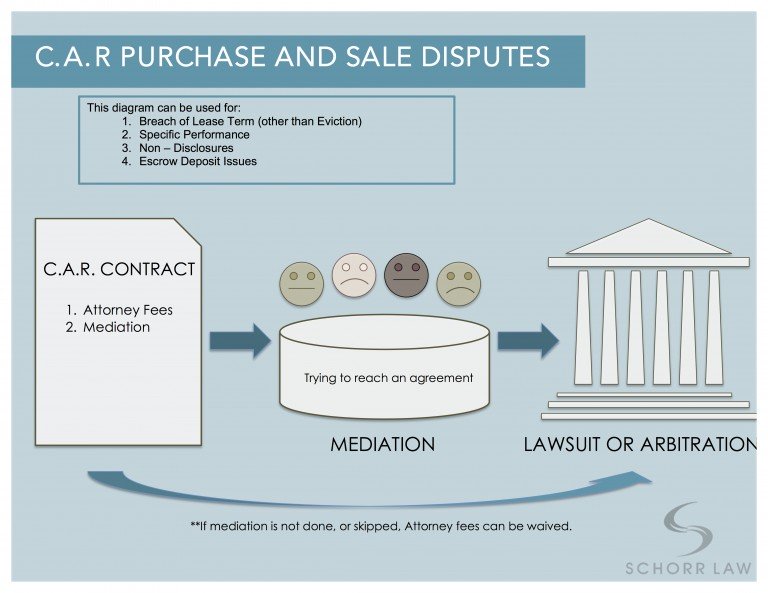 C.A.R Purchase and Sale Dispute Resolution
Updated on June 30, 2022
At Schorr Law our real estate attorneys frequently litigate disputes that arise out of the use of the California Association of Realtor ("CAR") forms for residential and income producing property.  In general, we find the forms are clear and well written.
Most CAR forms follow the same dispute resolution process.  The steps are set forth in the diagram above and in word form below. This diagram can be used for Breach of Lease Term, Specific Performance, Non – Disclosures, and Escrow Deposit Disputes as well.
First, the party making a demand must make a demand for mediation in order to preserve their right to recover their attorneys' fees as provided to the winner in a dispute arising out of the CAR forms.  Should the party making a claim fail to demand mediation, then they lose the right to recover their attorneys' fees in the event they prevail in the litigation or arbitration.
Second, the party receiving the mediation demand must agree to participate in mediation.  If they refuse, they too will waive their right to recover their prevailing party attorneys' fees in the event they defeat the claim brought by the party making the mediation demand.
Third, the parties go to mediation.  As a refresher – mediation is a non-binding settlement conference where the parties involved use their attorneys and a neutral third party to try to resolve or settle their dispute before the parties are forced to resort to a lawsuit or arbitration.  This is a good chance to resolve the dispute without having to spend large amounts of money on the litigation.
Finally,  if mediation is unsuccessful the parties either have to arbitrate their dispute (if the arbitration provisions in the contact is initialed) or they have to file a lawsuit to resolve their claim.
At Schorr Law, our real estate attorneys have extensive experience an enormous number of varying disputes arising out of the CAR form.  For help with your dispute, contact us today by filling in the contact us form on this page, by email at [email protected], or by phone at (310) 954-1877.
See related: Non Disclosure Litigation