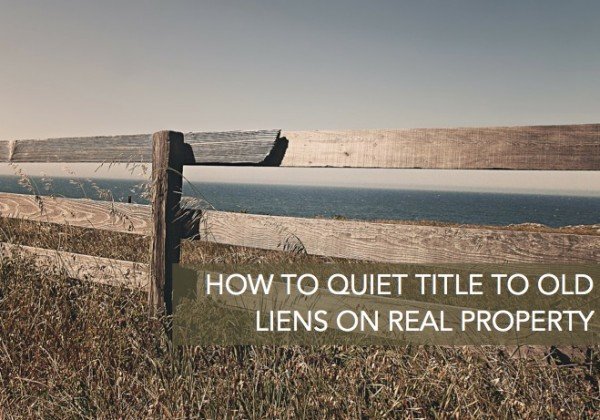 How to Quiet Title to Old Liens on Real Property
Updated on June 29, 2022
As Los Angeles real estate lawyers, dealing with commercial and residential real property throughout Southern California we are frequently brought into cases to help ensure clear title prior to a sale of property or to clear old liens.  Clearing an old lien can be more difficult than you would think, even if you know it is invalid, because often times the beneficiary of the lien has disappeared.
For example, we recently cleared a deed of trust from a piece of vacant land in Calabasas that our client had wanted to sell.  When the buyer and the seller entered into escrow the seller had no idea that there was an nearly 30 year old deed of trust (mortgage) encumbering the property.  Because of the lien the seller could not obtain a clear title report to sell the property.
Remember, that most lenders will not lend on a property without first obtaining a clear title report.  The title report ensures that the lender's deed of trust, which acts as security for the loan, remains in a priority position so the lender can be sure that in the event of the buyer defaults on its loan, the lender can foreclose on the property.  Even with a cash buyer a clear title report is important.  This is true because the buyer would like to make sure that they are not taking the property subject to any liens that would diminish their interest in the property.
Back to our example, we had to try to locate the beneficiary of the lien.  We tried to contact potential beneficiaries by mail, telephone and ultimately even hired a private investigator to try to track down the beneficiary.  After we could not find the beneficiary, we sued to quiet title.  This ultimately resulted in Schorr Law's real estate attorneys obtaining a judgment in our client's favor quieting title to the property and extinguishing the old lien.   After obtaining the quiet title judgment, we can record it with the county recorder's office and forward it to the title company.  The title company can then remove the lien from the title report (as an exception to the title policy) and provide a title policy not subject to the lien and in a form that a buyer and a lender would be willing to rely upon.
Our real estate lawyers frequently deal with unusual liens, lost liens, lost beneficiaries and unusual recordings that require both informal attempts to clear the liens as well as quiet title actions to clear the chain of title and recorded title.  Contact us for help with resolving these type of issues and to see if you qualify for a free consultation on your quiet title case at (310) 954-1877 or email at [email protected].