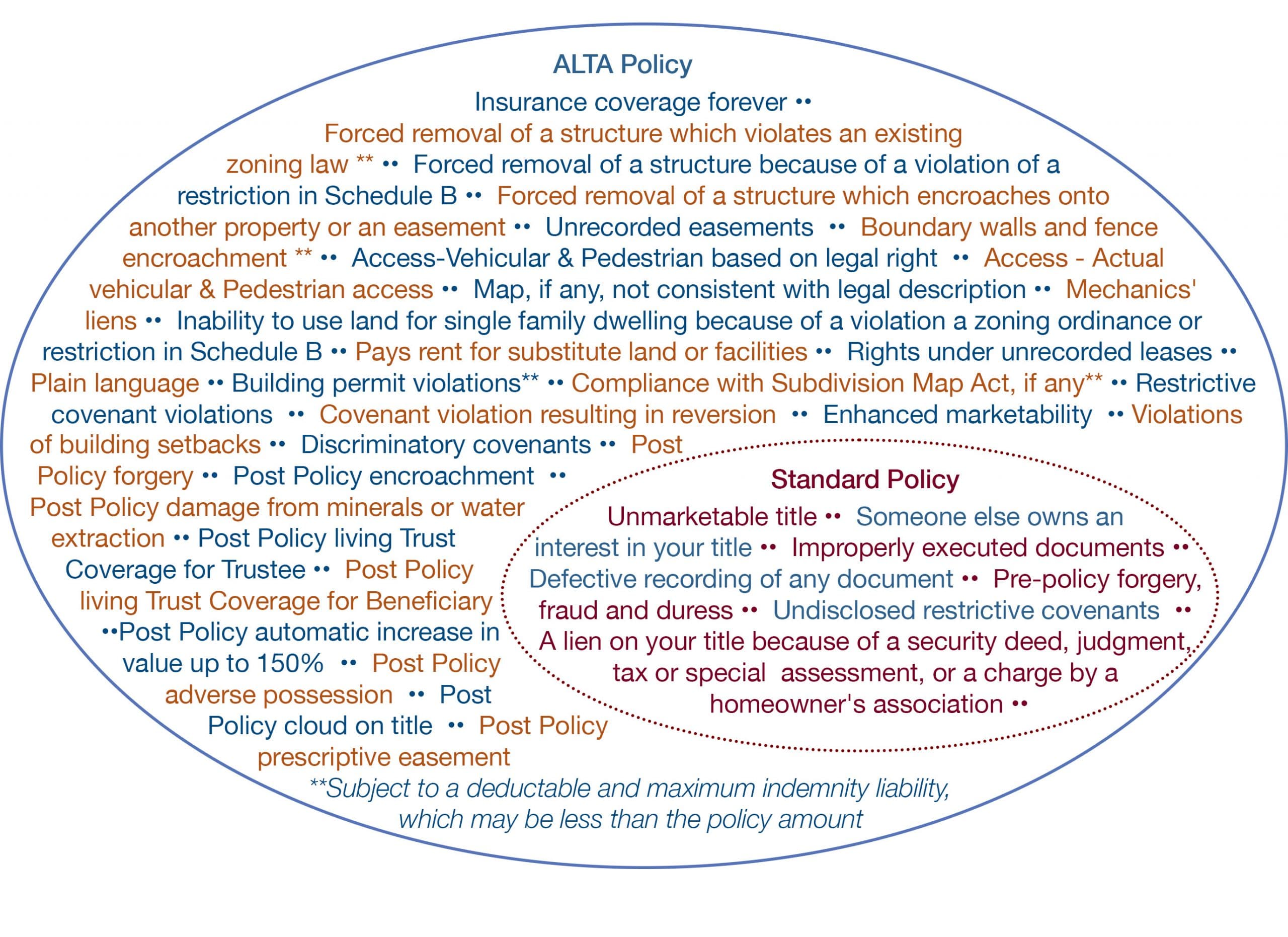 The Difference Between a CLTA and ALTA Title Insurance Policy
Updated on May 5, 2022
✔️CLTA Vs. ALTA Title Policy
When purchasing property, transferring property or refinancing property there are two types of commonly available title policies available – a CLTA and an ALTA Title Policy. Title policies, in general, protect the insured from defects in title. The scope of coverage, however, can differ greatly depending on the type of policy the insured purchases.
✔️CLTA Title Policy
A CLTA policy is a California Land Title Association Policy. This is often referred to as a standard policy. As the chart shows, a CLTA  policy protects the policy holder against clouds on title that are uncovered through a public records search. That means, it protects the insured against existing liens, clouds, defects or other encumbrances related to record title. This type of basic coverage most typically comes about where the title company simply failed to detect something on recorded title or in the public records. While each title policy is specific as to what it includes, some general categories are included in the chart below. The scope of coverage is really a legal issue subject to dispute, including what is available in the public record.
✔️CLTA Policy Cost
A CLTA is the cheaper of the two policies as there is no need to obtain a survey or inspection and provides less title coverage. The policy holder assumes greater risk. That said, even with the CLTA there can be ambiguities.
✔️ALTA Title Policy
An ALTA Title Policy (American Land Title Association) provides everything the CLTA covers and more. Please refer to the attached chart for the additional coverage an ALTA policy provides. To obtain an ALTA policy, the title insurers (the insurance companies) typically require a survey, a property inspection and an owner's affidavit provided by the seller or the borrower.
✔️ALTA Policy Cost
These policies typically cost about 25% more than the standard CLTA policy. Commercial lenders typically require that parties to a real estate transaction obtain an ALTA policy for the extended protection that it provides.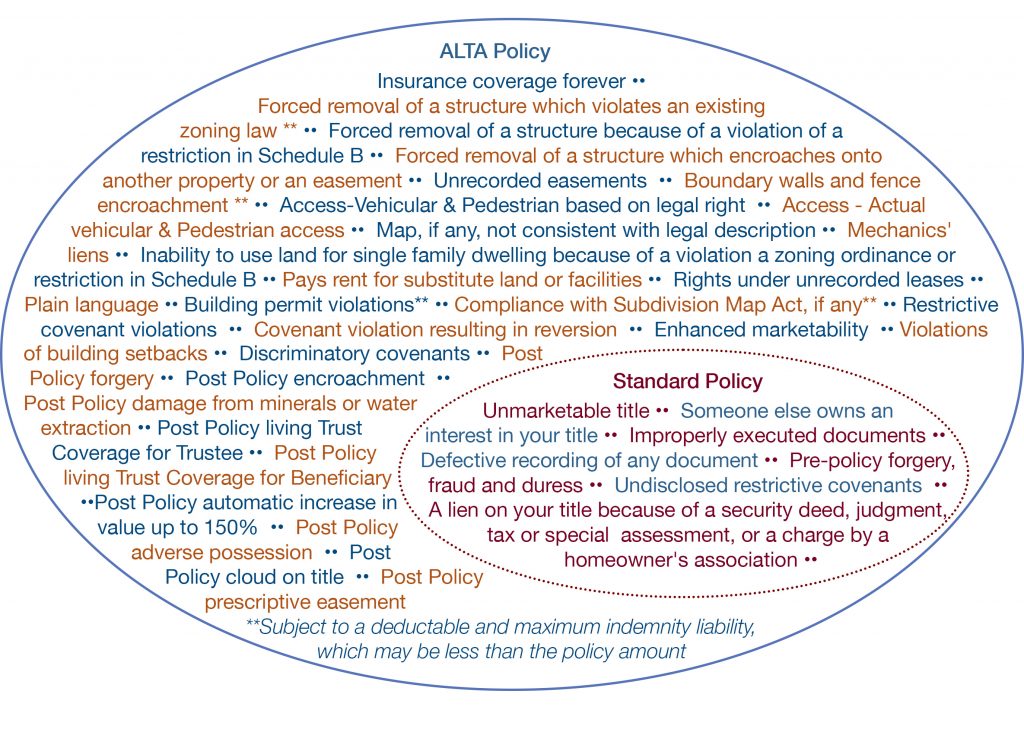 Schorr Law's real estate practice constantly involves issues affecting title. Many of our clients come to us with CLTA and ALTA policies. From the chart attached you can see that the scope of coverage is quite different. Often times, our clients come to us because the title company has already denied coverage under their title policy but the client still needs their underlying issue resolved. We can offer help to those clients with uncovered claims. Moreover, sometimes there is room to push back on coverage depending on the terms of the title policy.
For help with your title issue, please do not hesitate to contact the experienced professional real estate attorney california at Schorr Law. We offer a free consultation with attorney on title insurance issues and have a tremendous amount of experience litigating issues affecting title.
Also Read – What is the Purpose of Title Insurance?