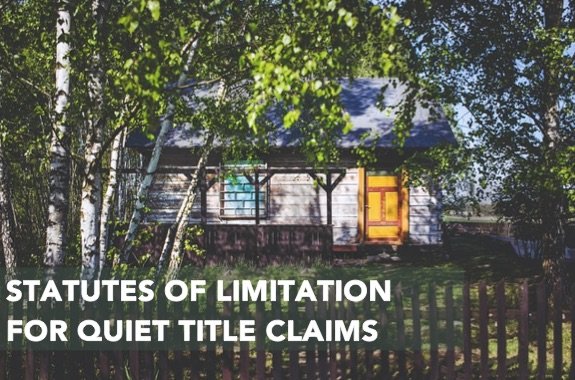 Statutes of Limitation for Quiet Title Claims
Updated on August 3, 2022
At the outset of bringing or defending any claim involving use and possession of real property it is always a good idea to examine the applicable statutes of limitation. This is true because they can either present a possible winning defense or, if you are the plaintiff, they can provide a potential pitfall that you have to carefully navigate around.
For example, quiet title claims have no particular statutes of limitation. The limitations period is instead determined by the underlying theory of relief – fraud, adverse possession, mistake, trespass, etc.
We frequently see statute of limitation defenses rear their head in quiet title claims where the person out of possession seeks to quiet title after a period of time where they were not in "exclusive and undisputed" possession of the property. Ankoanda v. Walker-Smith (1966) 44 CA4th 610, 616. In Ankoanda, the court determined that the applicable statute of limitations (based on the underlying claims for fraud or mistake) began to run as soon as the owner was not in exclusive and undisputed possession.
One application of this rule could be that a plaintiff suing to quiet title while not in "exclusive and undisputed" possession of the property risks having a trespass/nuisance statute of limitation (3 years) applied to their quiet title claim thus barring relief 3+ years after the claimant is out of exclusive and undisputed possession.
As with all issues, statutes of limitation are not always crystal clear and there is typically substantial room for argument based on the particular facts of the case. For information or help with your quiet title matter, please contact us to see if you qualify for a free 30-minute consultation with a quite title attorney in Los Angeles. Schorr Law has extensive experience with quiet title matters and continues to be a leader in this field.
Call us at: (310) 954-1877 | Text us at: (310) 706-2265 | Send us an email: [email protected] | Use our Contact Form to Send Us a Message
See related: Quieting Title to Real Property – Los Angeles