How does the Delayed Discovery Rule come into play in purchase and sale lawsuits? In California, the statute of limitations can be a cruel and unforgiving rule for some. Indeed, notwithstanding the merit of a claim, California courts routinely dismiss cases that were filed after the applicable limitations period has passed.
Delayed Discovery Rule in California
Within the context of purchasing real estate, buyers often claim that either a real estate agent, the seller, or both failed to disclose important information regarding the property. A failure to disclose material information concerning real estate is considered fraud and carries with it a relatively short three-year statute of limitations (California Civil Code section 338(d).)
In such cases, the delayed discovery rule may allow a real estate buyer to file suit more than three years after the close of escrow on their property.
Cause of Action Based on Fraud
A cause of action based on fraud or mistake "is not deemed to have accrued until the discovery, by the aggrieved party, of the facts constituting the fraud or mistake." (Vera v. REL-BC, LLC (2021) 66 Cal.App.5th 57, 68.) "The courts interpret discovery in this context to mean not when the plaintiff became aware of the specific wrong alleged, but when the plaintiff suspected or should have suspected that an injury was caused by wrongdoing. The statute of limitations begins to run when the plaintiff has information which would put a reasonable person on inquiry. A plaintiff need not be aware of the specific facts necessary to establish a claim since they can be developed in pretrial discovery. Wrong and wrongdoing in this context are understood in their lay and not legal senses." (Kline v. Turner (2001) 87 Cal.App.4th 1369, 1374).
Meaning, under the delayed discovery rule, a plaintiff can toll the statute of limitations until the plaintiff should have reasonably known of the claim.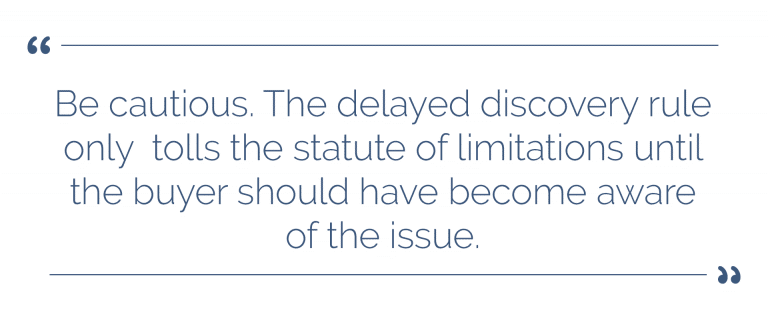 Example – Delayed Discovery Rule California
For example, imagine that Barry the buyer purchases a house from Sam the seller. Four years after close of escrow, Barry walks outside to find a black substance bubbling up in his backyard. He calls a geologist who quickly determines that there is an active tar pit in Barry's back yard. Barry chats with his neighbor and finds out that Sam was not only aware of the pit, but he had gone to great lengths to cover it up before selling the house, piling layers of sand, dirt and sod over the pit. Barry reviews his escrow paperwork and sure enough there is nothing disclosing the pit.
In this example, notwithstanding the fact that four years passed since the close of escrow, Barry would most likely be able to pursue a claim for fraud against Sam assuming Barry had no way of knowing that the pit existed and given Sam's efforts to cover it up. Thus, Barry's delayed discovery of the pit would delay the running of the statute of limitations.
Be cautious. The delayed discovery rule only tolls the statute of limitations until the buyer should have become aware of the issue. Once the buyer has received information that would make a reasonable person suspicious of wrongdoing, they must conduct their own investigationto determine if a claim exists and file suit if necessary. "Once the plaintiff has a suspicion of wrongdoing, and therefore an incentive to sue, she must decide whether to file suit or sit on her rights. So long as a suspicion exists, it is clear that the plaintiff must go find the facts; she cannot wait for the facts to find her." (Jolly v. Eli Lilly & Co. (1988) 44 Cal.3d 1103, 1111.)
Thus, going back to the prior example, had Barry noticed a strong, consistent smell of oil or tar and his dog had at least once a week for the past three years come into the house with black sticky goo on its paws, though a tar pit had not actually started to bubble up, a judge could potentially find that Barry was on inquiry notice of the tar pit, had a duty to investigate at that time and thus the statute of limitations started to run once he was on inquiry notice.
The facts of every case are different. When presented with a potential statute of limitations issue, it is important to retain real estate attorneys who have experience litigating the delayed discovery rule in the real estate context like the lawyers at Schorr Law.
To schedule a consultation with one of our attorneys, you can call us directly at (310) 954-1877, text us at (310) 706-2265, or send us a message here.